Live Feed

George Junior High
about 14 hours ago
Wrangler Families: We will be returning to on-site instruction on Monday! We can't wait to see our students back in the building! See you next week!

George Junior High
3 days ago
Wrangler Families: Families with children attending George Junior High School now have a unique opportunity for food assistance with our bi-monthly drive-thru food bank. Complete the GJHS Drive-Thru Food Bank Application to sign up for this opportunity. Families must fill out the form for each pick-up date. Pick-up dates will be listed on the GJHS website. The first pick-up date is Friday, December 4th. The deadline to complete the application is Thursday, December 3rd at 12:00pm. The pick-up time will be from 3:00pm-4:00pm in the front of the school. Parents will stay in their cars, and food will be brought to their cars.
Click the link to fill out the GJHS Drive-Thru Food Bank Application:
https://docs.google.com/forms/d/e/1FAIpQLSf6QoyRgNiIJ4sK3zjL7ALbrppprHB0HiuMoT0emsMjP02oDg/viewform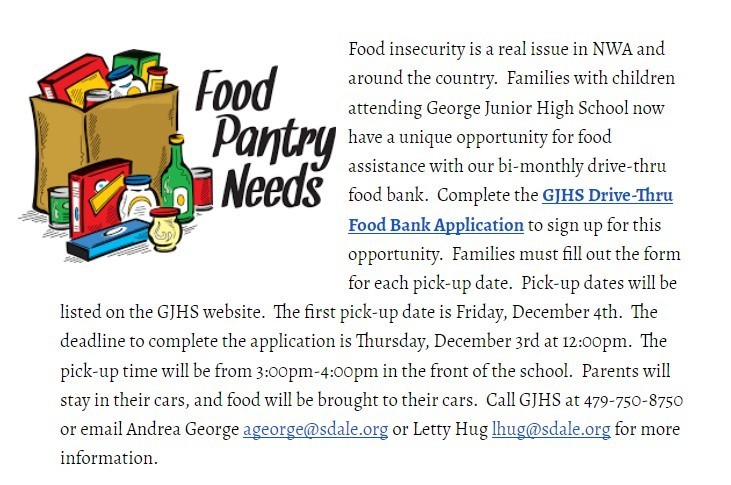 George Junior High
3 days ago
George FCCLA is collecting money for the NWA Children's shelter. Since we are remote this week, we are going to do things a little differently. Please follow the directions in the images below to donate. The advisory classes that collect $100 or more will win an ice cream party! (Also a great time to celebrate finals being over!)
We are going to use money collected to purchase items from the Wish List for the children.
We may have missed #GivingTuesday yesterday, so we are doing #WeStillWannaGiveWednesday
Here is the link to get to the donation website:
SEE ALL POSTS